Vacation was absolutely lovely! We had so much fun. There is nothing better than seeing this sign after 5 hours driving!
Dreams really do come true or at least mine always have when I visit.
We stayed
Pop Century
and it's always a lot of fun. We love pop culture at our house so this perfect for us. Sure we like other places too, but this year we let the Diva choose and Pop Century was her choice.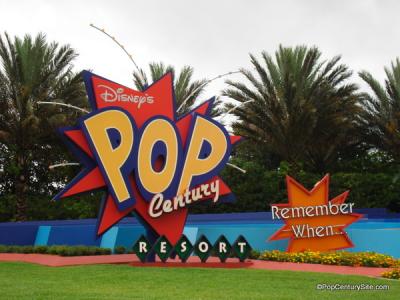 What you see entering the resort.
We stayed in the 80's decade on the 4th floor. The Diva loved it because of Roger Rabbit and I loved it because there was not anyone above us.
Our room was next to Roger and his turpentine. :)
After a few delays with the keys not working and then our tickets not working properly we finally make it into Epcot, of course. I swear my Diva always wants to go to Epcot 1st.
SpaceShip Earth:
Journey with us now to the dawn of recorded time as we
explore the amazing story of human communication.
Seeing as how we hit a few snags before we made it to the park; we were sprinkled with Pixie Dust and with the help of some fabulous fast passes we were able to go straight to Test Track. Or at least that was the plan. Just walking in the first thing you see is SpaceShip Earth, so here we go, back in time to visit the past. Next the Diva notices there is not a wait to ride Mission Space Orange, we make a beeline for Mars. After our astronaut training and making it to Mars safely we headed straight to Test Track. The Diva is not very brave when it comes to trying new things and but since I was able to browbeat talk her into riding it last time, she loves it now.
We left the house at 3am and by 5:30pm we were dragging. Stopping off in Mexico for a Strawberry Margarita for me and a Lime Margarita for Kevin we were able to make it to the American Adventure. All the Diva had talked about was a turkey leg which happens to be available right there in the American Adventure. Bellies full and happy we decide if we are going to make it up and manage rope drop at Magic Kingdom we better make our exit to the hotel. Besides by this point the Diva is dying to see her cousin Eli along with Aunt Cassi & Uncle Travis. Here are a few pictures from our 1st day at the Most Magical Place on Earth.
the Diva, Daisy Duck & Me
the Diva, Stitch & Me
The Diva unhappy about genies in
lamps for some & not for others.
the Diva with Duffy Bear ears!!!


So there is our first day, more to come!!! xoxoxo